Other visits
Green Connects – Irish Minister Visiting Krakow
2019-03-14
On Wednesday, 13th March, Krakow was visited by Mr.Kevin Moran, the Minister whose responsibilities in the Government of the Republic of Ireland involve public works, flood relief and heritage sites. One of the main points of Minister Moran`s stay in our City was a study visit to Zabłocie.
Fallen Canadian pilots honoured in Kraków
2017-09-04
In August 1944 Allied forces flew from Italy to drop supplies over Warsaw to help in the Warsaw Uprising. Many were shot down over Poland including, among others, Polish and Canadian pilots. 15 Canadian and 22 Polish pilots are buried at the Rakowicki Cemetery in Kraków.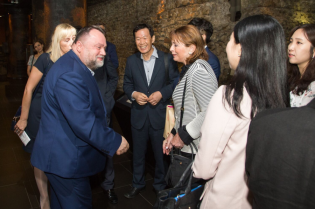 OWHC Board of Directors meeting was held in Krakow
2017-06-06
The Board of Directors of the Organisation of World Heritage Cities (OWHC) convened in Krakow between May 30 and June 2. Andrzej Kulig, Deputy Mayor of Krakow for Social Policy, Culture and City Promotion, welcomed the international visitors on behalf of the city authorities at an event held in the Underground Museum. OWHC meetings were held on May 31 and June 1 at the Krakow City Hall.