The Mayor of Shakespeare's Hometown Visits Kraków
On Monday, October 24, Jacek Majchrowski, the Mayor of Kraków, received the visit of Gill Cleeve, the Mayor of Stratford-upon-Avon.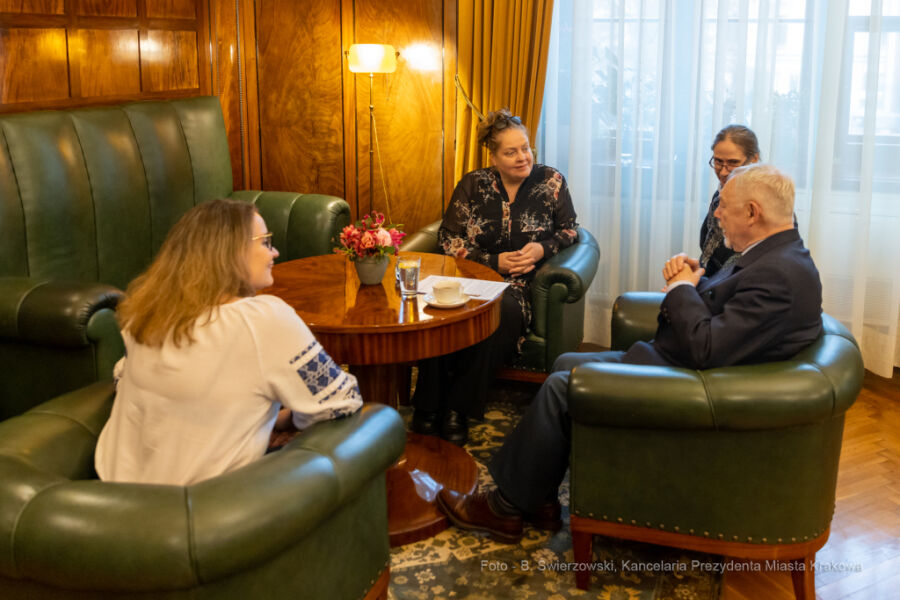 Mayor Cleeve came to Poland by an ambulance full of medical equipment and supplies which she donated on Sunday to the Ukrainians at the Polish-Ukrainian border. This was already the eighth ambulance funded by the community of Stratford-upon-Avon. Taking turns behind the ambulance wheel were Mayor Cleeve and dr. Tania Hebert, a British doctor of Ukrainian origin deeply involved in helping the country of her birth. The discussion at the meeting focused mainly on the help Ukraine projects carried out in Poland and in Great Britain. Mayor Majchrowski spoke of the present situation associated with hosting the Ukrainian war refugees in Kraków.
Mayor Cleeve pointed out that as many as 4 thousand Poles reside in Stratford-upon-Avon having a total population of 31 thousand, and that Polish residents are very active in the life of the local community as well as in the aid for Ukraine programmes.
Ms Gill Cleeve is a Town and District Councillor and in May this year became 477th Mayor of the Town where William Shakespeare was born, died and was buried.
Please see the photos from the meeting at OTOFoto Kronika Miasta Krakowa
British Poles a portal focusing on the subject of Poles in the UK and British-Polish relations talked to Mayor Gill Cleeve and dr Tania Hebert about their recent visit in our country, including the meeting with Mayor of Kraków, and the help for Ukraine and Ukrainian refugees. You can find the interview here.
Show ticket
News Publisher:
Otwarty na świat EN