Together for Ukraine - activities of the voivodeship and the city / Разом за Україну – діяльність воєводства та міста
An update on the aid activities of Kraków and the Małopolska Region. The voivode's office has invited mayors and district chiefs to work together to create a Regional Coordination Centre for Ukrainian Aid. The aim of the initiative is to prepare aid depots in each poviat. The actions taken will also concern services connected with transport and accommodation.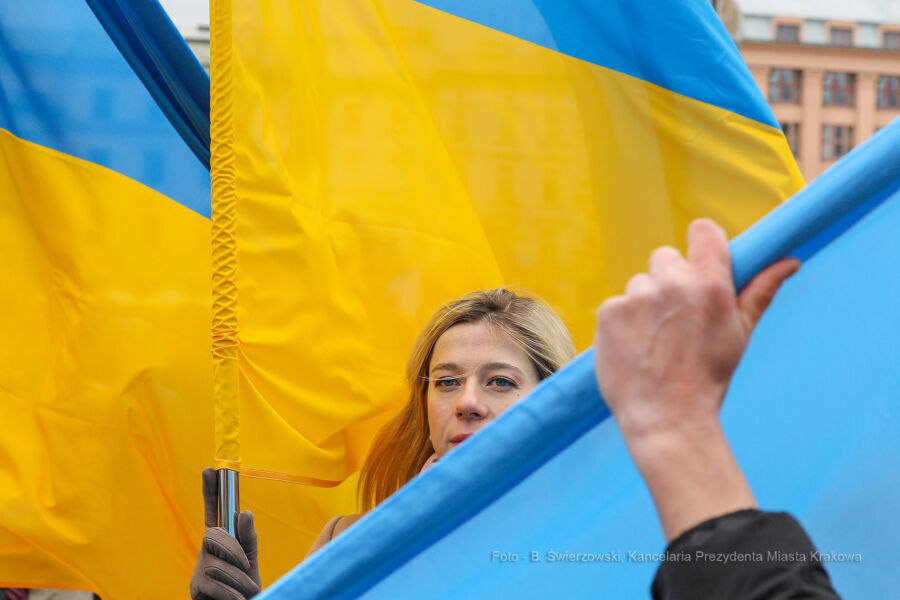 Powiat Support Depots (PRM Powiatowe Magazyny Pomocy)
Starosts and mayors of cities with powiat rights will be responsible for organizing the PMPs - appropriate segregation and categorization of products (according to the list of products that should be donated), packing products on pallets, functioning of PMPs 24 hours a day, receiving products, as well as dividing collected items into those intended for Ukrainians staying on the territory of Poland and those that will be transported to Ukraine.
The State Fire Service will be responsible for the distribution of the products. They will organise the transport of donations to the repository of the Government Strategic Reserve Agency (RARS) or to aid organisations. The State Fire Service will also report collected products to the RARS database on an ongoing basis.
Transport
Among others, transportation resources already offered by Małopolska residents to transport.ukraina@muw.pl will be used for transport.
Humanitarian aid
Questions/offers about humanitarian aid for Ukraine should be sent to: pomoc.ukraina@muw.pl
 
Information point of the Małopolska Voivode
Helpline for those seeking shelter: 12 210 20 02
Helpline on legalisation of residence and work: 12 210 20 20
Identity certificates for refugees

On Monday, 28 February, the General Consulate of Ukraine in Kraków began issuing identity certificates for Ukrainian citizens who have arrived in Poland without passports.
Help for refugees in Kraków
The Open Kraków Coalition - 40 social organisations which are joining forces to organise the necessary aid for Ukraine as soon as possible. List of organisations forming the coalition
Старости та президенти міст з правами повіту відповідатимуть за організацію ПСД, за відокремлення та категоризацію продуктів (згідно з переліком продуктів, що підлягають передачі), за пакування продуктів на піддони, за функціонування ПСД протягом 24 годин на добу, за отримання продуктів, а також розподіл зібраних речей на такі, що призначені для українців, які перебувають у Польщі, а також такі, що будуть перевезені в Україну.
За дистрибуцію продуктів буде відповідати Державна пожежна служба (ДПС). ДПС організує транспортування подарунків до сховища Урядового агентства стратегічних резервів або до організацій, які надають допомогу. Крім цього, ДПС буде у поточному режимі передавати звіти про зібрані продукти до бази Урядового агентства.
Транспортування
Для транспортування будуть застосовані транспортні засоби, які мешканці Малопольщі вже розпочали пропонувати за адресою електронної пошти: transport.ukraina@muw.pl
Гуманітарна допомога
Будь ласка, надсилайте ваші запитання та заяви щодо гуманітарної допомоги Україні на адресу: pomoc.ukraina@muw.pl
Інформаційний пункт Малопольського воєводи
Гарячий телефон для тих, кому потрібний притулок: (+48) 12 210 20 02
Гарячий телефон з питань легалізації перебування та роботи: (+48) 12 210 20 20
Посвідчення особи для біженців
Генеральне консульство України в Кракові з понеділка, 28 лютого, видає посвідчення особи громадянам України, які прибули до Польщі без паспортів.
Допомога біженцям у Кракові
Show ticket
News Publisher:
Otwarty na świat EN