Eco-Spotlight!
The spring is in full swing and nature is slowly coming back to life. Nothing is as strongly associated with nature as ecology! On the eve of the world-wide eco-action Earth Hour, which Krakow will traditionally join, we would like to focus on the initiatives and projects which our partner cities are implementing to protect the environment.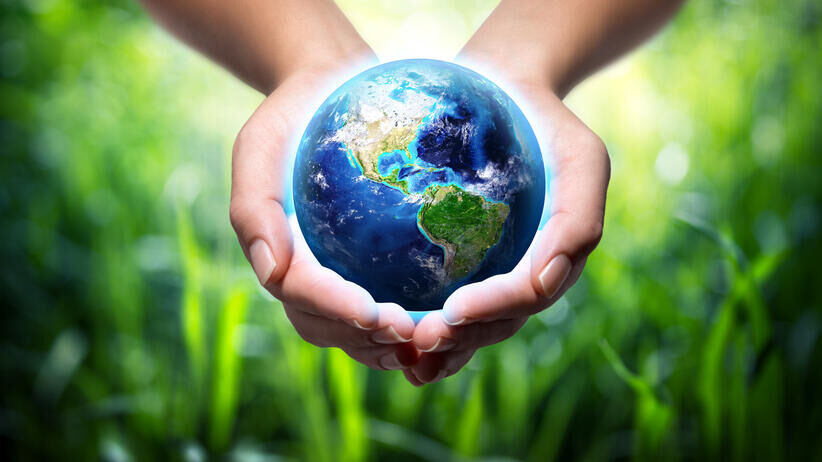 On Saturday, 27 March, Kraków - like many cities around the world - will raise awareness of the need to protect our planet and its natural resources. Under the Earth Hour campaign, the most important monuments of our city will be enveloped in darkness. At 8.30 pm, the illuminations of St. Mary's Church, the Town Hall tower, the Cloth Hall, as well as the lights on Kościuszko Mound, the Bernatek Footbridge and the Wielopolski Palace on Plac Wszystkich Świętych will be turned off for 60 minutes.
We turn off the lights to remind people of the need to save energy and, on a broader scale, to protect the environment. In Kraków, we do this every day by protecting clean air, replacing old furnaces, investing in ecological transport, implementing circular economy and modern waste management, taking care of urban greenery and sustainable investments. The latest report of the European Clean Air Center, which examines the influence of various factors on the quality of air in European cities, shows that the greatest reduction in pollution (excluding the impact of weather conditions) was achieved in Kraków!
And how do our international neighbours and partners protect the environment? Get to know some of the clever projects and initiatives that Kraków's partner cities are proud of! The cities are listed in alphabetical order.
 
BORDEAUX – "Micro-forest"
Tackling urban heat islands

More nature in the city and improving the microclimate - these are the priorities set by the new authorities of Bordeaux. An example of promises kept is the project, launched in March 2021, to plant eleven "micro-forests" - natural, autonomous ecosystems providing fresh air and adequate humidity - in neighbourhoods and parks of this French city. Bordeaux mayor Pierre Hurmic inaugurated the first micro-forest as early as March 9. They are created based on the work of Japanese botanist Akira Miyawaki - an expert in plant ecology who specializes in seeds and studies of natural forests. These islands of freshness are designed to become the residents' allies in the fight against the heat, which is unfortunately forecast to increase. As with any new idea, micro-forests have their supporters as well as their opponents. Not everyone is happy that new green corners are created at the expense of car parking spaces. There are also opinions that some species of planted trees reach maturity after too many years. However, the city authorities are determined to prioritise greenery. At the end of 2020, Bordeaux City Hall presented the "Bordeaux in full blossom" plan, which includes tripling the budget (300 thousand euros) for the implementation of green plantings.
Planting of the first Bordeaux micro-forest in Billaudel Square. Photo: Thomas Sanson
FRANKFURT AM MEIN – "Frankfurt Freshens Up"
Climate bonus for those investing in local greenery

Green roofs and facades provide cooling for buildings in summer and contribute to a friendly microclimate. Because densely developed cities heat up faster, Frankfurt encourages private property owners and businesses to create new green spaces through a "climate bonus." The city has created a support program to help property owners, businesses and housing associations that want to introduce more greenery around their homes or on their rooftops. The program offers advice, consultation, and funding for new investments such as: green roofs, facades, and courtyards; shading of buildings and public spaces (by trees, pergolas, and awnings); installation of publicly accessible drinking water fountains, etc. The city reimburses up to 50% of eligible investment costs, or up to €50,000 per project or property. The German Institute for Urban Planning and the Federal Ministry for the Environment, Nature Conservation and Nuclear Safety awarded Frankfurt am Main the "Climate Active Municipality" award for its initiative "Frankfurt frischt auf" ("Frankfurt Freshens Up").
Photo: Stefan Cop, Frankfurt am Main City Hall
See more: Förderprogramm Frankfurt frischt auf | Stadt Frankfurt am Main
GÖTEBORG – The CELSIUS project
Even a passenger ship is connected to the municipal heating grid!

A green approach is one of the pillars of the development strategy of the City of Gothenburg, which actively shares its experience in various international projects. One of them was a Smart City project called CELSIUS that ran from 2011 to 2018 with the aim of supporting European cities in establishing, developing and optimizing district heating and cooling networks. The project gathered the experience of five European cities-leaders: Gothenburg (project initiator), Cologne, Genoa, London and Rotterdam. Their know-how was used by partner cities, including Kraków. One of the most ground-breaking applications of district heating that Gothenburg has demonstrated as part of the CELSIUS project is the world's first regular passenger ship to use a district heating system. Once it enters the Port of Gothenburg the Stena Danica owned by Stena Line, is connected to the district heating system instead of being heated by oil boilers! Although the energy demand of a passenger ship is huge (equivalent to the annual energy consumption of 260 large detached houses!), the Swedes have developed innovative technical solutions to connect it to the grid every day. This has resulted in a 60% reduction in CO2 emissions, over 90% reduction in SOx and NOx emissions, and a significant reduction in noise levels.
Connecting the installation of the Stena Danica - Stena Line vessel. Photo: Gothenburg City Hall
See more: https://www.districtenergyaward.org/district-heating-to-ships-gothenburg-sweden/
LVIV – "Bodnarivka"
Zero Waste Hazardous Waste Disposal

The activity of the "Bodnarivka" ecological plant, located in the suburbs of Lviv, is an important element of the city's electrical and hazardous waste management program, implemented by the Department of Ecology and Natural Resources of the City of Lviv. Built in 2016, the plant was financed with EU environmental funds and uses Swedish patented technology for the disposal of waste containing hazardous mercury. In the facility, which operates in a closed "zero waste" cycle, led lamps and bulbs, mercury thermometers and used batteries are processed for reuse or broken down into useful components. These materials can be disposed of by the residents of Lviv and surrounding villages in special containers located in more than 200 locations, or handed over to the staff of a special Eco-bus, which visits the city's districts on a regular schedule. The capacity of "Bodnarivka" is sufficient to solve the problem of hazardous waste disposal for the whole western Ukraine.
Photo: Lviv City Hall
NUREMBERG - Energy and Environmental Protection Station
Environmental education and passive structure
Modern environmental education is one of the tasks of the Nuremberg Energy and Environmental Center, which organizes events, projects and programs for schools, day care centers, families and all other interested parties. Attratively conducted classes place emphasis on the sustainable development goals set by the United Nations. The aim of the Energy Station's educational activities is therefore to promote the skills, knowledge and values necessary for sustainable development and the active participation of young people in the processes of social transformation. Concrete opportunities and their practical application in everyday life are presented here. The station is located in a building on Lake Wöhrder in central Nuremberg, completed in 2020. The building is constructed accorting to the Passivhaus standard and is therefore itself innovative in terms of energy and technology.
Photo: Nuremberg City Hall
See more: www.umweltstation.nuernberg.de
OLOMOUC – gets the green light
Flowers for insects and heat-tolerant urban forests

Olomouc is blooming not only thanks to spring! The Czech city has been actively creating new blossoming spaces - meadows and custom-designed flowerbeds. The program is very popular among residents, who appreciate the aesthetic value of the plantings, but it is addressed not only to people. Its main objective is to protect pollinating insects - extremely important for the preservation of biodiversity, including the urban ecosystem. It is worth mentioning that Olomouc is a city with floral traditions. It was here, before the pandemic, that the renowned and very popular Gardening Fair as well as the "Flora Olomouc" exhibition were held every April, attracting flower lovers from all over the country. A related and equally important activity of Olomouc is the revitalization of the city's forests to make them more resistant to climate change. Coniferous trees, which cannot withstand the increasingly frequent long periods of drought in Olomouc, are consequently replaced with species of trees with large leaves that are more resistant to climate change and create the necessary shade.
Photo: Olomouc City Hall
PÉCS – Biological Thermal Power Plant
Heating and clean air for residents

Although Pécs prides itself on its rich history, one of the most valuable resources of this city and region is nature. In order to protect the environment, combat climate change, and improve the quality of life for its residents, Pécs has implemented a number of green initiatives over the past decades. One of the most important achievements was the conversion of a large gas-fired combined heat and power plant into a biomass-fired CHP plant (straw and wood). At the same time, the largest biomass heating network in Europe was established in Pécs. The CHP plant uses 600 tons of biomass fuel per day, which is equivalent to 90 bales of straw and wood residues per hour. These are burned at 1,200 °C to generate electricity and heat. The plant has a raw material warehouse where 180,000 tonnes of straw are stored annually. The heat produced at the plant is already used by more than 30 thousand houses and apartments and 500 public institutions. The use of modern technologies in the facility has significantly reduced carbon dioxide emissions, thus improving air quality in Pécs. This is a major achievement, as pollution is a serious problem in the city, which is located in a valley surrounded by the hills of the Mecsek Mountains. Similarly to Kraków, the problem of pollution in Pécs is particularly serious in winter.
ST. PETERSBURG – "Clean Games"
Clean the world by playing a game in teams

"Clean Games" is a team competition to clean up trash in natural areas through... fun! During an exciting game with prizes, a high-energy DJ, and a picnic, participants search for game artefacts, solve nature puzzles, and most importantly - earn points for collecting and sorting "valuable" trash. Game statistics are published in real time on the website and mobile app. On average, 1 to 3 tons of garbage is collected per game! Dmitry Ioffe and his friends came up with the idea of organizing "Clean Games" in 2014, during a trip to one of the littered islands of the Leningrad region. Thanks to the help of the creative team of the city of St. Petersburg "Running City" already after 2 months it was possible to organize the first urban "fight for garbage". The idea caught on instantly and since 2015 the "Clean Games" have already had a pan-Russian scope, and since 2018 - international. The game takes place, among others, in Estonia, Poland, Georgia, Belarus, Latvia, but also in India, China or Nigeria! So far, more than 850 "Clean Games" have been played in 20 different countries! The "Clean Games" team maintains that its goal is to build an international community of people who consciously care about our planet and pursue serious goals, but at the same time - like to have fun!
Photo: St. Petersburg City Hall
See more: https://cleangames.org/
VIENNA – "Vienna Will Fix It"
Fix it, don't toss it!

Vienna has long led the charts of smart cities, thanks in part to the implementation of innovative green solutions. Here is just one, selected from the countless pro-environmental initiatives of the Austrian capital. Vienna continues its successful "Vienna Will Fix It" campaign, which began in the fall of 2020. With their special coupons, the city is effectively motivating residents not to throw away things that do not work or are broken and therefore - at first glance - useless. The aim of the project, which has been allocated €1 million this year, is not only to support Viennese companies and ensure the continuity of employment, but also to protect the environment. Repairing broken items reduces the amount of things thrown away, but also conserves natural resources and reduces CO2 emissions, slowing climate change as a result. Viennese residents can have their belongings repaired at 109 companies of the Vienna Repair Network (Wiener Reparaturnetzwerk), which accept city vouchers. The vouchers can be downloaded free of charge from the city's website from March to the end of June. Simply bring the voucher and the defective item to the repair shop! The city subsidizes each repair by 50%, up to a maximum of 100 euros. Upon presentation of the voucher, the repair fee is automatically halved - no more forms to fill out! Last year, up to 65% of the items repaired were electronics, mainly cell phones and tablets. Other items that the people of Vienna were happy to repair included furniture, shoes, clothes and bicycles. No wonder Vienna is already planning the third round of the project! - More repair vouchers will be issued already in the second half of 2021.
Photo: Vienna City Hall
VILNIUS - Intelligent Energy Lab
Sustainable and smart municipal energy

The global demand for energy is growing and requires its use to be more sustainable. Therefore, the need to modernize the existing energy infrastructure and develop it further is also becoming increasingly pressing. This requires the optimization of energy systems. Smart energy is thus aimed at obtaining energy more efficiently than before. Power grids will gradually be transformed into smart grids - interactive, transparent and more environmentally friendly, often connected to other systems. That - in a nutshell - is Vilnius' plan! A platform for creating smart energy solutions and their implementation in the capital city of Lithuania is what the Intelligent Energy Lab Vilnius provides. It is a project created by the city, and is open to all interested partners - companies, universities, research institutes and other entities, which are interested in efficient energy use and development of sustainable and modern city energy.
Objectives of the Intelligent Energy Lab project. Photo: Vilnius City Hall
See more: https://iel.lt/en/
Show ticket
News Publisher:
Otwarty na świat EN